This page is to highlight the careers of some of our forgotten pieces of apparatus.
Engine 335 was replaced by a new Engine in 2011.  She was the 1991 Pierce Dash 4 four wheel drive rescue pumper and included a 1500 GPM pump, 500 gallon water tank, onboard Generator and seating for 4.  It was a very unique truck and served us well from 1991-2011.  It was traded to the dealer when we purchased the new truck for resale.
Marine Rescue 5 was a 1988 Robalo. She was purchased from the Warren County Sheriffs office in 2005. She served as a auxiliary/rescue boat. MR-5 began showing signs of age and was  retired at the end of the 2008 boating season.
Engine 336 was a 1986 Emergency One Hurricane Engine/Tanker. She had a 2000 GPM Pump and carried 1500 gallons of water. She also had a rear Jet dump. She was replaced by a 2008 Pierce Dash Engine/Tanker. The "E-One" as she was called made her way to Nova Scotia upon her retirement from the Bolton Vol. Fire Company.
This is the old Fireboat 1.  It is a 1972 Penn Yan Boat with twin 440 Horsepower Chrysler engines with Tunnel Drive.  It had a 1000 Gallon Per Minute Pump System and served us well for many years on Lake George. She was sold to The Hague Vol. Fire Dept in 2001.
The original Airboat 1.   It was a 1968 16 Foot Air Gator Airboat.  It was the first of it's kind in our area for the Fire Service.
"P336"  Our "little truck" as it was affectionately called.  A 1968 Bean Truck on a Chevy Chassis.  It made it's way to Lake George on it's retirement in 1991 and watered flowers as "Flower Power".  It recently made a trip to Guatemala to return to a career in the fire service…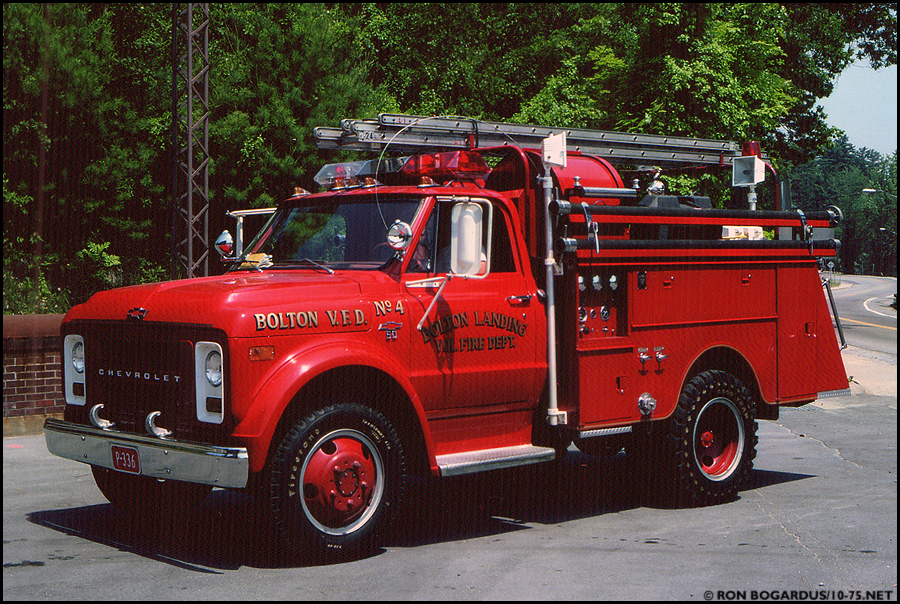 "406T"  The "tanker" as it was referred.  A 1977 Bean 1500 gallon tanker, It began its career here in 1977.  It served us faithfully grinding in 3rd gear until 1993.  It continues to haul water for the Town of Bolton Highway Department.
"E337" Responded "Code Red" for its last time in 1993.  It began here in 1978.  It was a Bean 1000 GPM Pumper on a Chevy Chassis.  Known to us as the "Chevy", it continued it's career with the Wevertown Fire Company.
The radio designation Engine 337 has a proud history of identifying our fire trucks. Below is the Engine that replaced the truck pictured above. This Engine 337 is a 1993 Pierce pumper/tanker. It carried 1500 gals of water and had a 1500 GPM pump. It also carried portable pumps and a drop tank.
Ex Brush 135. She began her life here as a brush truck and a tow vehicle for the airboat. She was a 1992 Chevy 3500 1 ton truck with a Chevy 454 Engine. In 2004 She was overhauled. The cab was repainted two-tone white over red to match the engines, a new utility box and fire pump were installed. Her ID also changed from "Rescue 135" to "Brush 135" also that year. She carried a full compliment of forestry firefighting equipment and in the winter months carried some ice/water rescue gear and towed the airboat. She also carried 300 gallons of water. She was replaced in June 2016 by a 2016 Ford F-550 Brush truck.  Upon retirement she was sold to the Hague Vol. Fire Dept where she continues to serve as a brush truck. She now carries the ID with HFD as "Brush 142"
Below is Rescue 136. It carried a multitude of firefighting equipment. Amazingly it only carried 2.5 Gallons of water. 1998 we took delivery of a heavy duty rescue truck purchased from Saulsbury Fire and Rescue Apparatus. It is a Saulsbury Gladiator chassis with an eight man cab with a command center console. The
truck is equipped with a generator, light tower, two sets of Jaws, other hydraulic rescue tools, ice rescue equipment, S.C.B.A. and much much more. When the truck was designed it was designed to carry all the essential equipment needed for fire and rescue incidents and for all the extra equipment for that what if situation. It was retired in July of 2018 and some of the equipment it carried was moved to the new Engine/Rescue 337 when it arrived in September of 2018.